Drop Scones
Ingredients
8 oz self-raising flour
1 oz caster sugar. Can be licked off spoon.
1 egg. Budget for four eggs if working with under-sevens.
1 pint full cream milk. 10 oz for recipe, plus one glass to be taken with results.
Pinch of salt. This is a small amount of salt, Issy. Tinier than your little finger. Not too much! Not! Oh. That's too much. Never mind.
Read More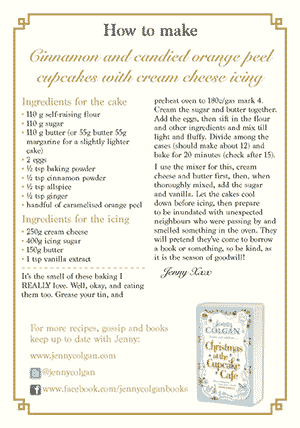 Cinnamon and Candied Orange Peel Cupcakes with Cream Cheese Icing
Ingredients for the cake:
110 g self-raising flour, 110 g sugar, 110 g butter (or 55g butter 55g margarine for a slightly lighter cake), 2 eggs, ½tsp baking powder, ½tsp cinnamon powder, ½tsp allspice, ½tsp ginger, Handful of caramelised orange peel
Ingredients for the icing:
250g cream cheese, 400g icing sugar, 150g butter, 1 tsp vanilla extract
Read More