Cinnamon and Candied Orange Peel Cupcakes with Cream Cheese Icing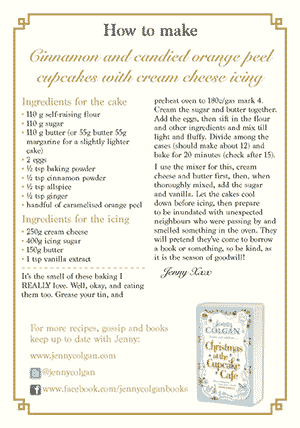 Ingredients for the cake
110 g self-raising flour
110 g sugar
110 g butter (or 55g butter 55g margarine for a slightly lighter cake)
2 eggs
½tsp baking powder
½tsp cinnamon powder
½tsp allspice
½tsp ginger
Handful of caramelised orange peel
Ingredients for the icing
250g cream cheese
400g icing sugar
150g butter
1 tsp vanilla extract
It's the smell of these baking I REALLY love. Well, okay, and eating them too. Grease your tin, and preheat oven to 180c/gas mark 4. Cream the sugar and butter together. Add the eggs, then sift in the flour and other ingredients and mix till light and fluffy. Divide among the cases (should make about 12) and bake for 20 minutes (check after 15).
I use the mixer for this, cream cheese and butter first, then, when thoroughly mixed, add the sugar and vanilla. Let the cakes cool down before icing, then prepare to be inundated with unexpected neighbours who were passing by and smelled something in the oven. They will pretend they've come to borrow a book or something, so be kind, as it is the season of goodwill!
Download a the recipe card to add to your collection.